6-Pc Black-Oxide Finish Jumbo SAE Wrench Set (1-3/8 to 2)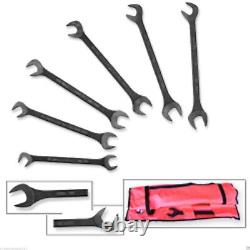 6pc Black Oxide Jumbo Angle Wrench Set, SAE. 1-3/8", 1-1/2", 1/5/8", 1-3/4", 1-7/8", 2" Black Oxide Finish Pouch w/ Carry Handle 15 Degree Offset Open End/ 60 Degree Offset Open End. You may return the product within 30 days of receipt.
All of our pictures are photos of actual items. Colors or packaging of items delivered may vary from those photographed.